You Guys, I Think Sarah Palin's Trying To Bang Louis C.K.
"Governor Palin, for the last time, I'm A.J. Calloway. Not Barack Obama."
"Oh, well, also, I'm just so sorry about that, Obama, but I do think this trick the lamestream media likes to pull on America where good working people from real towns that just want pull earth salt from their traditional values but are frankly bamboozled into thinking you all look the same, gosh darnit."
"Are you having a stroke?"
"It hurts on my left side, Obama. I'll be honest with you."
Back in February, if you went solely by the headlines, Louis C.K. apologized to Sarah Palin, but really he mostly had a brief moment of guilt on The Howard Stern Show that quickly devolved into how much he'd like to fuck her. And remarkably Sarah Palin picked up on all of that because she dedicated an entire chapter of her new book Sweet Freedom to their encounter, and if I'm reading this correctly, wants that dick. PEOPLE reports:
"Maybe a bit of the, um, 'uniqueness' of #SweetFreedom featuring a guy like Louis C.K. in a devotion can illustrate the surprise encounters I believe are orchestrated for us that can lead to a connection for others' edification" the former Alaska governor wrote on Facebook Wednesday.
Along with the post, Palin attached a photo of herself showing the page – titled "The Power Of Nice, and Saturday Night Live" – from her new book that she's referring to. The mother of five even kindly autographed it with a note.
"Here I'm signing a copy of Sweet Freedom for the comedian while dashing through La Guardia; I'll send it to him with a challenge for him to come slay salmon with me up North. Hope he's gutsy enough to do so!" she continued.
"Slay some salmon." Jesus Christ. If that's not an Alaskan euphemism for fucking, I don't know what it is.
"An invitation to just start jerking off in front of her without her consent?!"
Maybe, Louis C.K. voice in my head, maybe…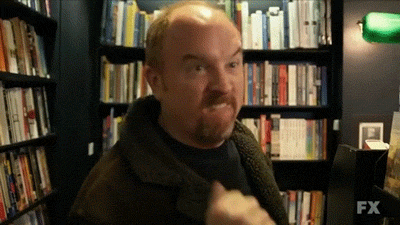 THE SUPERFICIAL | About • Facebook • Twitter
Photo: Getty