Ryan Lochte And His Bros Peed All Over The Gas Station Now
"For real chocolate inside, bruh."
When this story first started, Ryan Lochte told his mom and eventually others that not only was he robbed at gunpoint in Rio, but the assailant cocked his gun and held it to Lochte's head who was all like, "Whatevs." – I'm not even joking about that last part. – But like every party story from your 20s, nothing even remotely awesome happened, but you did pee all over a gas station. (I'm sorry, Sheetz.) Via Deadspin:
American swimmers Ryan Lochte, Gunnar Bentz, James Feigen, and Jack Conger peed on the Barra da Tijuca gas station in defiance after being told to use the bathroom, according to the gas station owner who spoke with O Globo.
The report, written in Portuguese, says that the group of swimmers were asked to use the bathroom at the gas station, but instead allegedly pissed on the wall. There's a mention of an image of one of their butts, though it isn't clear if that's a mental image from one of the attendants, or a literal image.
In the meantime, the AP reports Ryan Lochte's friends have already admitted he made the whole robbery story up, so only an idiot would try to keep this thing going on TMZ:
Ryan Lochte did not lie about the "robbery" incident … and there are 3 minutes of missing surveillance video that will back up most of his story … this according to sources directly connected to the swimmer.
Our sources say Lochte and his team claim they were indeed taken out of a cab at gunpoint, but the video doesn't show that because the gas station edited it out.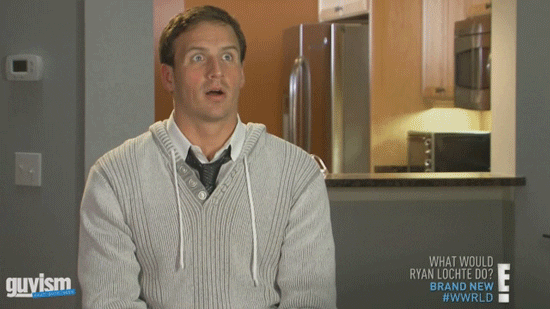 (Do you know how many GIFs there are of this kid? A billion. This'll work.)
THE SUPERFICIAL | About • Facebook • Twitter
Photo: Getty