God Wants Corey Feldman To Keep Performing
[Ed. Note: I went back 13 years for that header photo. Tell me I chose poorly.]
After Corey Feldman's batshit Today performance, the internet went predictably nuts, creating brilliant mashups, like this one, and GIFs that I will probably use until the end of time, like this one: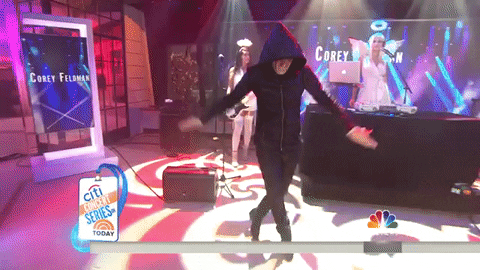 But Corey Feldman did not like all of that, specifically the parts where people less than gently encouraged him to kill himself. Fair enough. So after literally crying about it during a since-deleted Facebook Live stream, Corey has now found strength via the support of Miley Cyrus and God to keep performing. Plus idiots have been buying his terrible album. Via Fox 411:
Feldman is now laughing all the way to the bank. In the week since the "Today" performance, he said album sales "have shot through the roof on all platforms." He's looking to launch a world tour in support of his fifth album, "Angelic 2 The Core."
"We want to be able to do everything I have in mind, as far as the creative elements go," said Feldman. "If we're performing in smaller venues, we won't be able to have back-up dancers, projections, lasers and that kind of thing."
Goddamn hipsters. You know 99% of those downloads were ironic and only so they can be played during The Room viewing parties in Venice Beach, and the result is an empowered, faith-renewed Corey Feldman who now believes The Almighty sent him money for lasers and hookers who pretend to play guitar. If we were ever going to find out the identity of Corey Haim's rapist, it was going to be right after the internet broke Feldman down to nothing, but no, you fucking assholes with your thin suspenders, your app startups, and your craft sherry distilleries had to fuck this all up. We already let Neil Patrick Harris happen and look how out of hand that's gotten. Was that not enough? When are your thin mustaches satisfied?!
THE SUPERFICIAL | About • Facebook • Twitter
Photo: Getty